Lift Pilates is a traditional, boutique Pilates studio offering Private and Duet Pilates lessons in the heart of Downtown Davis, California. We specialize in post-rehab Pilates while offering an invigorating Pilates workout.
Who benefits from the Traditional Pilates system?
Traditional Pilates is corrective exercise. "Contrology (Pilates) develops the body uniformly, corrects wrong postures, restores physical vitality, invigorates the mind, and elevates the spirit." Joseph Pilates

Our Mission at Lift Pilates is to bring our clients back to health, teaching the Classical Pilates Method the way Joseph Pilates intended. We use a proven system of exercises that has been taught for over 100 years.
Traditional Pilates is a proven system of exercises that is more than a reformer, and more than a mat—it's an entire system that uses many different apparatuses. Pilates will teach you to build a strong and flexible body from the inside out, and you will develop a strong and supple spine for healthy, efficient movement. You will feel good and have more energy to do the things you like and want to do, whether you want to bend over to pick up your morning paper or run a marathon!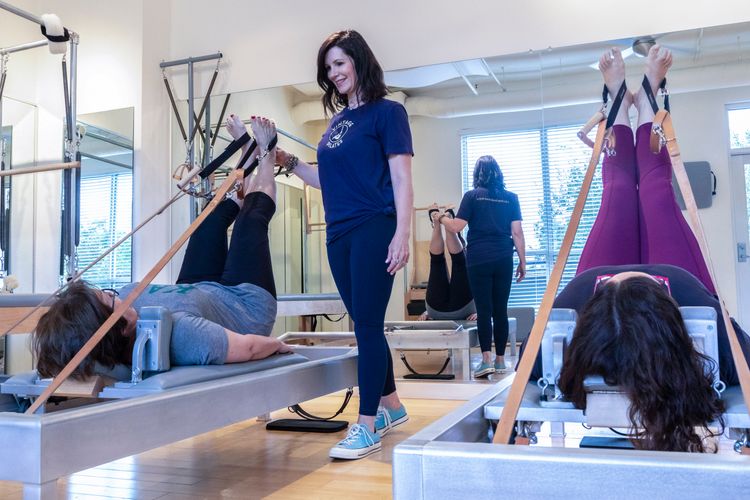 Who benefits from the Classical Pilates system?
Men and women with stiff, achy backs to build strength in core muscles and learn to move better to help alleviate pain and stiffness.
People with scoliosis learn to bring their spine more to the center line and create more length.
Older adults who want to improve balance and joint range of motion.
Those wanting to strengthen their bodies and core after being released from physical therapy or chiropractic care.
Runners, cyclists, skiers, and swimmers to reduce risk of injury and improve performance.
Golfers and tennis players to improve their game and reduce the risk of injury.
Postnatal, Pilates is excellent at targeting pelvic floor dysfunction, diastasis recti, and healing from c-section.
Workouts Custom-Tailored For You
You will learn to move your body better on our Original Gratz Pilates apparatus. Gratz equipment is the best in the industry and assists you in building a strong, flexible, toned body for efficient movement. Pilates meets you where you are so you can work at your individual fitness level. You will get healthy and strong in a fun, supportive environment.
Our Gratz Pilates apparatus includes:
Reformer
Cadillac
Wall Unit
High Mat
Wunda Chair
High Chair (Electric Chair)
Arm Chair (Baby Chair)
Ladder Barrel
Spine Corrector
Small Barrel
Ped-o-Pul
Foot Corrector
Toe Corrector
Airplane Board
Neck Stretcher
Magic Circle
2 x 4
Bean Bag Roll-Up Device
Breath-A-Cizer