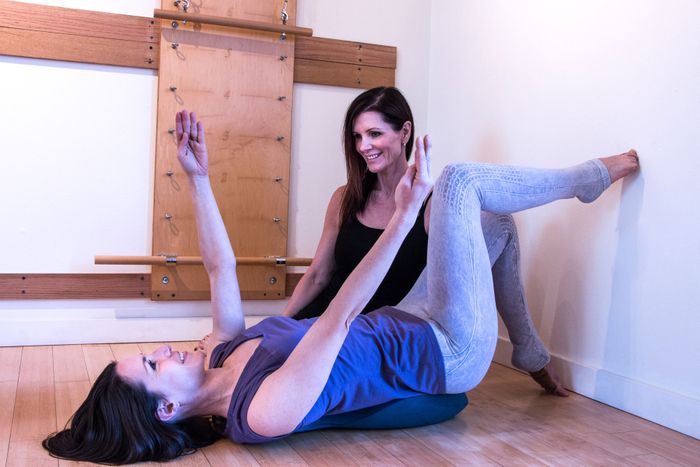 Lift Pilates clients receive a workout individually customized for them, each and every time they are in the studio.
Our studio is filled with the best equipment in the industry.
We offer many packages & memberships to suit different budgets, lifestyles and goals.
Reach out to us today so we can help you find the ideal option for you.
Intro Offer/3 Private Pilates Lessons for $219
I am happy to make Intro Offers available to new clients wanting to find out if we are a good fit for each other!Intro Offers are also the gateway to group classes, and teach you a firm foundation before trying a class. I teach my clients how to develop a balanced body, as flexible as it is strong. This classical approach leads to better posture, a graceful, flowing gait, and a body that moves with ease and in harmony with itself. I'm looking forward to helping you learn to move your body better and to do things you never believed possible! Intro Offers expire in 14 days from the date of purchase.
3 Private Pilates Lessons for $219
Private Lessons
Laura teaches the original method developed by Joseph Pilates with an individualized focus to get you back to your optimal health and well-being. Whether you are coming in with chronic pain, or are an athlete looking to heighten your game, or simply want to get in shape and feel better, this is the place for you! Your workout will be structured within Joseph Pilates' intelligent and innovative design while taking into consideration your individual needs.
Single Session: $105/lesson
4x per month for 12 months $340/mo ($85/lesson)
Duet Lessons
Duet lessons are semi-private, and are 2 people working out together. Like Private lessons, we follow the Pilates system and focus on individual needs. These sessions are perfect for those who like working out with a partner or friend. Some of Laura's clients enjoy mixing it up and doing one private lesson and one duet lesson or class per week. Come join us! Pilates is good for the body!
Duets (prices are per person)
Single Session: $60/lesson
4x per month for 12 months $204/mo ($51/ lesson)
*Duet Lessons require that you do Intro Offer Private Lessons first.
NEW! Pilates Contrology-Group Apparatus Class
REAL EXERCISE FOR REAL PEOPLE. Pilates Contrology Classes are group lessons done the way Joe Pilates taught them at his New York studio. These small classes (up to 4 people) are available to regular studio clients of all levels, where practitioners work on their own individualized workout under Laura's guidance. Focus on flowing through your movements, gaining independence, and taking control of your workout. Come get healthy and strong in a fun, supportive environment. Prerequisites: 3 private lessons and the ability to work independently. Monthly memberships & discounted packages available.
Using Original Gratz Pilates apparatus, your body learns how to flow while moving. Gratz equipment assists you in building a strong body, and you develop a strong and flexible spine for healthy, efficient movement. You become more flexible as well as stronger. Pilates meets you where you are so you can work at your individual fitness level.
Gratz Pilates apparatus, includes:
Universal Reformers
Cadillac
Wall Unit
High Mat
Wunda Chairs
High Chair (Electric Chair)
Arm Chair (Baby Chair)
Ladder Barrel
Spine Correctors
Mini Barrel
Ped-o-Pul
Foot Corrector, Toe Correctors
Airplane Board
Neck Stretcher
Magic Circles
2 x 4
Breath-A-Cizer
Class size is 3-4 people. Space is limited.
Tuesdays at 8:30am and Thursdays at 10:30am.
Single Class: $45
4x per month for 12 months $148/mo ($37/class)
*Apparatus classes require that you do Intro Offer Private Lessons first.
Friends Pilates Apparatus Class
Put together your own class with 1-3 of your own friends. You will receive your first class free for putting together your class.
Prices start at $148/month (4x per month)
*Apparatus classes require that you do Intro Offer Private Lessons first.
Please call me to arrange your class.
If you have questions, please give me a call at 530.220.4579 and let's talk.
You can email me at lauracotler@icloud.com
Book Now and you'll be on your way to a better body.
Don't see a package that suits your goals? We have many options to choose from!