Start with an Intro Offer and book your first private lesson today.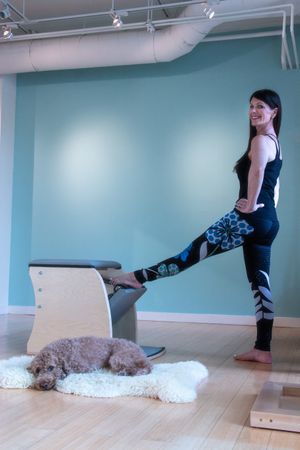 Lift Pilates Open Studio Personalized Sessions
Lift Pilates Personalized Pilates Sessions are Open Studio Style--you will start with an intro offer (1 hour private lesson and 3-half hour private lessons) and we'll go from there.
Some people need additional private lessons with me before starting in my Open Studio--we'll assess as we go and make sure you feel good about joining in Open Studio.
Like Private lessons, we follow the Traditional Pilates system and focus on individual needs.
You will learn the Traditional order of the exercises on the Reformer and Mat
You will also be given additional exercises on other apparatus chosen specifically to meet your individual needs
You will workout under my eagle eye!
Each Lift Pilates Open Studio Workout is 55 minutes long.
With over 20 years of teaching Pilates, teaching Pilates in every which way and form, I've found this traditional, "open studio" format the best way for my clients to develop consistency, resilience, and mastery over the Pilates system, ultimately allowing them and me to achieve our goals together!
New Client Intro Offer Private Package
1-Hour Private Lesson + 3 Half-Hour Private Pilates Lessons Intro Offer

$249
Private Pilates Lessons (55 minutes or 25 minutes)
Some clients need additional private lessons with me before joining in Lift Pilates Open Studio Sessions, and some current studio clients need to brush up on their skills or feel a need to check in more often. Additionally, If you have a specific injury or health concern, please call me or book a private lesson so we can discuss your specific needs. Visitors to Davis and visiting Pilates teachers are also invited to book private lessons with

55-Minute Private Lesson

$125/lesson
Half-Hour Private Lesson
$75
All-Inclusive Unlimited LIFT PILATES Open Studio Sessions
unlimited open-studio sessions per week
1 55-minute private session per quarter to level up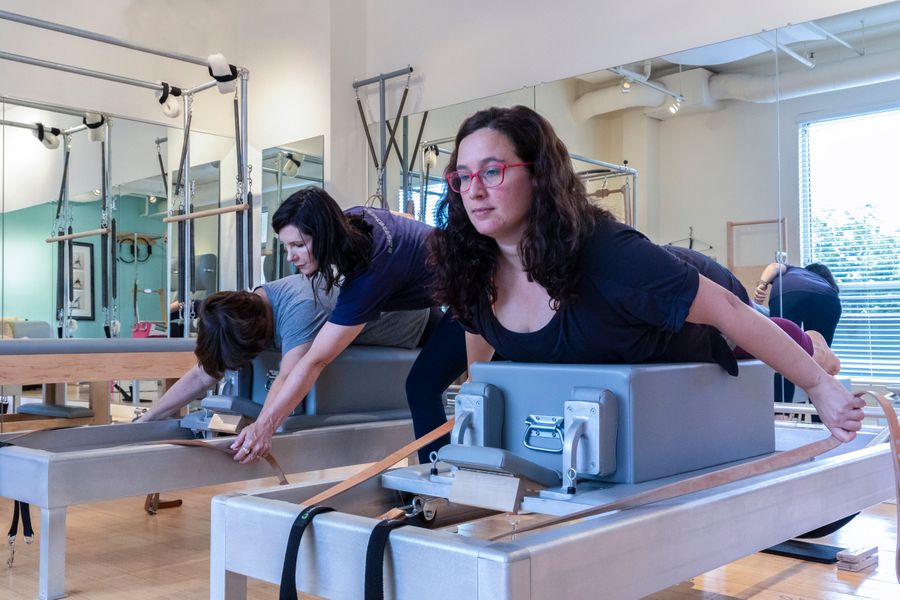 START WITH AN INTRO OFFER and book your first private lesson.
Most clients need 4 private lessons to start in LIFT PILATES PERSONALIZED WORKOUT SESSIONS.
1 Hour Private lesson + 3 Half-Hour Private Pilates Lessons Intro Offer

$249
FAQs
Get Regular With Lift Pilates and Change your Life!
I run Lift PIlates & Post Rehab the way Joseph Pilates ran his real life studio in New York City--open studio style with real people doing tough and sweaty workouts--some were injured, some were dancers and other athletes, most were just regular people wanting to get healthy and fit. People are the same who come to Lift Pilates--they're young and old and in between, and from all walks of life, with a myriad of injuries and "conditions," but the common thread is that everyone wants to live their best life and feel the best they can.
To be on board with Lift Pilates, my only rule is that you work out with me at least twice a week. Anything less than twice a week just won't cut it--I want you to see results and want you to feel like the best you possible. View schedule here
The way we'll start is through an Intro Offer--4-half hour private lessons for $219. You'll need to be able to complete your 4-half hour private lessons in 2 weeks, so make sure you have time carved out in your schedule. Most of my clients jump right into Lift Pilates Open Studio Sessions after the initial 4- half hour privates, but I have some clients who augment Lift Pilates Workout Sessions with half hour privates ($75 each half hour private), for a short period, becoming less necessary as you quickly build your skills and independence and enrich your program.
Ongoing Membership
Once you've completed your 4-half hour private lessons with me, you'll join my Lift Pilates weekly membership option. This allows you to join either 2, or as many Lift Pilates Open Studio Sessions as you wish, depending on the membership option you choose. All classes are kept small in my boutique Pilates studio.
$125 per week All-Inclusive
*Unlimited Lift Pilates Open Studio Sessions per week
*A quarterly 55-minute Private Pilates appointment with me to help you level up, address areas of concern, set new goals, and strategize your focus in your upcoming workouts.
Terms & Conditions
Culture at Lift Pilates

The experience at Lift Pilates is happy and supportive. We laugh together and share, we're focussed on our workouts and sometimes things get really quiet! You might show an exercise to a new student, or we might stop the workout and have a min-workshop because that's what the group needs right now. Mainly we're focused on our workout and moving through our Pilates exercises. I want to help each one of you on your Pilates journey, support you and help you progress. I want you to be okay with taking your time, be okay with making mistakes, because this is how we learn. I want you to enjoy your successes as well as learn from the difficult and uncomfortable times. Ultimately these are the things we need to change us and need for us to succeed. Pilates requires consistency and a little patience but is so worth your time and effort.

General Terms & Conditions

Membership Fees are charged on Sundays and are non-refundable. If you're going to be gone for a week, just let me know a few days before so I have time to pull the charge. If you're going to miss a day, you can make it up another time.
Private Lessons are charged 48 hours in advance of the scheduled lesson, and I require a 48 hour notice to cancel; sorry, no exceptions).
I reserve the right to refuse service to anyone who I feel won't be a good fit to LP culture, or who I feel I won't be a good service fit for.
I reserve the right to alter my schedule as I require.
I reserve the right to increase my prices at the fair rate growth of between 3 and 10% per year.
I will take vacations each year, and during this time no membership fees will be deducted.
Membership fees are not reduced for weeks where a legal holiday falls despite running a day (etc.) short.
Infrequently, I need to travel for work/training, and it may mean I need to cancel some sessions or a day of work. I also believe it is fair workplace practice that people are allowed to take sick leave and still feel they are safe in receiving a wage. There may be times when I am traveling for work or I am sick and require time off from running sessions. In these rare instances I do not offer a refund for days missed, however:
If you miss a workout because I'm off, sick or away, I'm more than happy for you to make it up another time.
I promise I will always try my best to keep disruptions to a minimum, but I believe these practices are fair and are in accordance with the purported values of our society.
I will notify you via email the day of if I'm sick and won't be able to teach a session.
I will also notify you via email if I'm required to travel for a workshop.
I also understand that my clients may miss sessions due to illness, legal holidays, family issues, etc, and I'm more than happy for you to make up these sessions at a future date.
Must have paid for 10 out of 13 weeks to qualify for quarterly private lesson

MEMBERSHIPS
I have 1 simple membership option available
ALL-INCLUSIVE MEMBERSHIP - $125 per week, which is all-inclusive, and includes Unlimited Lift Pilates Open Studio Sessions per week plus 1-55-minute private lesson per quarter
If you have any questions, please give me a call or text me at 530.220.4579.
Book Now and you'll be on your way to a better body.