We offer many packages & memberships to suit your lifestyle and goals. Start with our Intro Offer and book your first lesson today.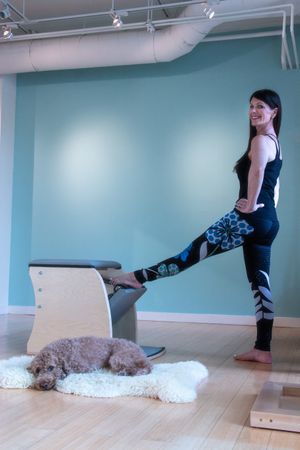 Private Pilates Sessions
You will get the most individualized attention
Your session will be tailored to your pace and working level
Great for beginners to get acquainted with the exercises and equipment
Best for those with pre-existing conditions or injury
You will learn the Classical order of the exercises on the Reformer and Mat
You will also be given additional exercises on other apparatus chosen specifically to meet your individual needs
New Client Intro Offer Private Packages
3 Private Pilates Lessons Intro Offer
$239
1 Private Pilates Lesson Intro Offer
$85
Monthly Memberships
4 Private Pilates Lessons per month

(1x week) for 4 months:

$380/mo ($95/lesson)*

8 Private Pilates Lessons per month

(2x week) for 4 months:

$720/mo ($90/lesson)*
*Most popular packages. Most people who purchase monthly packages come in 1-2 times a week and hold a spot on the schedule.
We also offer 12-month options at a deeper discounted rate.
Packages and Single Sessions
5 Pack Private Pilates Lessons:

$525 ($105/lesson)

1 Private Pilates Lesson:

$110/lesson
Monthly Memberships
4 Duet Lessons per month

(1x week) for 4 months:

$228/mo ($57/ lesson)*

8 Duet Lessons per month

(2x week) for 4 months:

$432/mo ($54/lesson)*
We also offer 12-month options at a deeper discounted rate.
Packages and Single Sessions
*Duet Lessons require that you do 3 Intro Offer Private Lessons first
*When you buy a monthly membership and come in 1-2 times per week, you get to hold a spot on our schedule.
FAQs
What do I wear?
Come ready to move! Wear clothes that are either close-fitting or only semi-loose fitting, but not baggy. Many women choose an athletic top and leggings. Men, you can wear a t-shirt or tank with compression shorts alone or under athletic shorts.
Do I need to wear socks?
No, you do NOT need to wear socks, but if you would like to wear socks, make sure they are sticky socks or have grips on the bottom.
How often do I need to do Pilates to see results?
You can do Pilates every day, and most of our clients come into the studio twice a week. We will give you a home-based exercise program so that you can keep up your practice even when you are not in the studio!
Who benefits from Pilates at Lift Pilates?
Almost anyone can benefit from Pilates. Our clients range from 13 to 85 plus years old, from injured athletes to those suffering from illness and chronic pain, to those feeling achy and stiff, and those who want to continue exercising as they get older and feel good about themselves both physically and mentally.
What if I have injuries?
We can help you even if you have injuries. Many of our clients come to us with injuries, either chronic, post-rehab, or post-surgery after being released from their physical therapist. You can be self, PT, physician, or chiropractor- referred. Some of the types of injuries/pathologies we see are herniated discs, scoliosis, chronic low back pain, rotator cuff injuries, hip and knee injuries, just to name a few. If you are injured and have been cleared for exercise by your physician, we can help.
Where will I park my car?
You will find 2-hour street parking all around the studio, and also in the ACE parking lot beside our building. You will find ninety-minute parking along the railroad tracks on H Street.
Where will I park my bike?
Park your bike in front of the studio in the bike racks.
What is your physical address?
Find me at 803 2nd Street, Suite C, Davis, CA 95616, on the second floor of the Chen Building, corner of 2nd and G Streets, near the train station, in Downtown Davis, CA.
Cell Phone Free Zone
Please silence your cell phone while in the studio.
Clothing, Zippers, Lotions
Please not wear clothing with exposed zippers or metal fasteners/decorations as these can tear the upholstery on the apparatus and get caught in the springs.
Please avoid wearing jewelry – bracelets, necklaces, large earrings, large rings – as they can get caught in the springs and straps and cause upholstery tears.
Refrain from using lotions, creams, oils – especially sunscreen products – as it increases the risk of slipping and can cause damage to the upholstery.
Studio Policies
Cancellations must be made 48-hours in advance to qualify for a make-up lesson.
5 Packs expire 45 days from the date of purchase.
10 Packs expire 90 days from the date of purchase.
Month to Month Options: no rollovers.
4 and 12-Month Options: may roll over missed lessons (provided you have given 48-hour notice) to the following month only.
Intro Offers expire 14 days from the date of purchase.
COVID-19 Studio Policies & FAQs
CURRENT STUDIO PROTOCOLS

Welcome to Lift Pilates. Lift Pilates is a private, boutique studio, and there will be ONLY you and your teacher (or your duet partner if applicable) allowed in the studio at all times. For your safety and the safety of others, please take the time to thoroughly review the below protocols. Contact us if you need further clarification. Subject to change as new protocols arise.

Laura is fully vaccinated, and only fully vaccinated individuals may take lessons at this time.
Private lessons and duet lessons are the only allowable service at the studio until further notice.
Lessons are 53 minutes, with 7-minute cleaning / disinfecting windows between sessions.
Hand sanitizer available at all times.
Please do NOT arrive early.
Bring your own water to drink.
Cleaning and disinfecting occurs throughout the day. We leave plenty of time between sessions to allow for thoroughness.
If you have any questions, please give me a call at 530.220.4579.
Or email laura@liftpilates.com.
Book Now and you'll be on your way to a better body.
Don't see a package that suits your goals? We have many options to choose from!