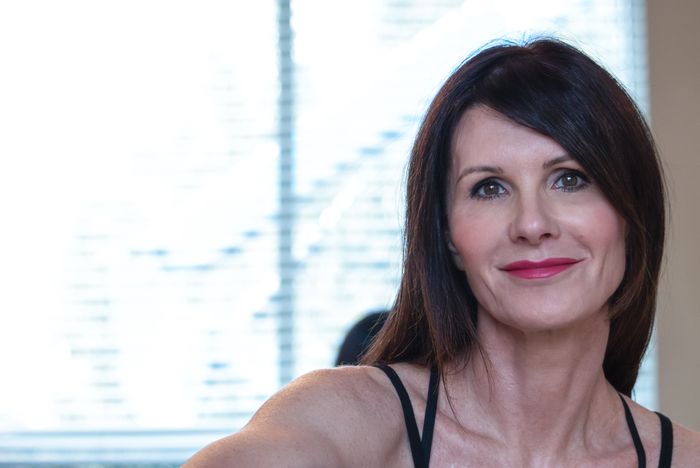 Laura Cotler, Nationally Certified Pilates Teacher, Authentic Pilates Union Active Instructor
Laura is comprehensively trained in the Pilates method, certified since 2001 and has been teaching Pilates for more than 18 years. Laura teaches the authentic method developed by Joseph Pilates with an individualized focus to get you back to your optimal health and well-being.
Her primary focus is working with men and women with chronic pain and injuries. Laura works with clients who are pre and post-rehab, post-natal, post-mastectomy, injured athletes, or those who are merely feeling achy and stiff and want to be able to bend over and touch their toes! Did you know that Pilates was originally developed as exercise for men? It's true! A lot of men still do Pilates and in fact, about a third of Laura's clients are men!
Some people do Pilates because of chronic back pain, and others because they want a stronger core. Her clients are referred to her from physicians, physical therapists, chiropractors, or self-referred.
Through Pilates, Laura teaches her clients how to develop a balanced body, as flexible as it is strong. This classical approach leads to better posture, a graceful, flowing gait, and a body that moves with ease and in harmony with itself. She enjoys helping her students learn to move their bodies and to do things they never believed possible!
Laura has trained with nationally renowned instructors, including Jay Grimes, Sandy Shimoda, Karen Frischmann, Andrea Maida, Ron Fletcher, Elizabeth Larkham, and Sherri Betz. She has done workshops with Jay Grimes and Ron Fletcher, both Pilates elders who worked directly under Joseph Pilates. Laura currently studies with several Pilates teachers who graduated from The Work® at Vintage Pilates with Jay Grimes in Los Angeles, and will start a year-long Pilates "master's" program with Jay Grimes in January, 2020.
She holds certifications from The Pilates Method Alliance®, Polestar Pilates®, Stott Pilates®, Oov Certified Level 3-D and trained by Daniel Vladeta, MELT® certified Hand and Foot Instructor trained by Sue Hitzman, and is an Authentic Pilates Union Active Instructor, as well as serving as a board member and their membership coordinator. Laura studied at the Medical Exercise Training Institute with Michael Jones, P.T., studied the Gokhale Method, and has taken Madeline Black's Centered and Scoliosis Workshops. She continues to keep up her training through workshops several times a year and enjoys sharing what she's learned with her students and clients.
She is credited as having brought Pilates to her Davis community in 2000 to the health club she was managing at the time when there was no Pilates in the area, and Laura opened the first Pilates studio in Davis in March 2003 behind the Pence Gallery. She started as a "contemporary" Pilates teacher and got her first Pilates certification in 2001. Laura became interested in post-rehab Pilates and studied and certified with Polestar Pilates and Sherri Betz in 2004-2005. In between 2009 and 2013 she studied and became a level 2 certified instructor with Stott Pilates. Always the student, Laura found Pilates teacher Andrea Maida in 2015, and then after a long illness, in 2017, found Sunni Almond of Going More Joe and fell in love with the true Pilates method (see Laura's first blog post for more on why she became a Classical Pilates teacher).
Laura is also a published author--read her article in PilatesIntel, an online publication for Pilates teachers. Laura Meets Baby (Chair)
She offers private and duet Pilates lessons in her private, boutique studio in the heart of downtown Davis, California. Her studio is the only fully equipped Pilates studio in the greater Sacramento area that uses the original apparatus by Gratz Pilates.
Laura's studio also has the new Contrology Reformer by Balanced Body. This reformer has design details that have restored it to bring back the original Reformer feel. Laura was fortunate to work on the Contrology Reformer project with Balanced Body and wrote the exercise instruction insert and also managed the photoshoot for the instruction manual. She worked on "The Making of The Contrology Reformer" with Balanced Body, which part of was filmed on location at Lift Pilates.
Her studio is located in downtown Davis, near the train station, on the corner of 2nd and G streets, on the 2nd floor of the Chen Building, 20 minutes from downtown Sacramento.
In her spare time, Laura can be found skiing, kayaking, swimming, dining, and dancing with her husband "Coach" Steve (goalgettersindoorsoccer.com). They have 4 children (3 now grown!) and a 7-year old labradoodle, Ruby. Laura also enjoys reading spy novels and spending time with her 18-year old lounge-cat, Max!